FUEGO SHRED STACK
$99.91
$104.95
Regular price
The most loaded shred stack in existence
FEEL THE FUEGO
FULL POWER
SUPERCHARGED ENERGY*
Have the energy to get your daily tasks accomplished and more.*
A+ APPETITE SUPPRESANT*
Say no more to the daily temptations and urges. The most important part of your weight loss efforts is to be in a caloric deficit. Less calories=more weight loss.*
MOOD ELEVATION*
Lets face it, losing weight suck! Demonios' mood elevating matrix will have you in your best mood yet.*
SUPER DRIP*
Sweat like there's no tomorrow!*
6 MG Total Yohimbine
450 MG Total Caffeine
250 MG InnoSlim®
150 MG Cocoabuterol®
30 MG GGBGO®
50 MG Capsimax®
225 MG Paradoxine®
6 MG Total Yohimbine
450 MG Total Caffeine
250 MG InnoSlim®
150 MG Cocoabuterol®
30 MG GGBGO®
50 MG Capsimax®
225 MG Paradoxine®
6 MG Total Yohimbine
450 MG Total Caffeine
250 MG InnoSlim®
150 MG Cocoabuterol®
30 MG GGBGO®
50 MG Capsimax®
Behind the ingredients
Demonio utilizes 15 ingredients to increase your energy, enhance thermogenesis, appetite suppression, enhance your overall mood and calorie wasting.*
Fat Shred Matrix
This fat burner was formulated to get you feeling the heat, help you burn more calories, sweat more and provide thermogenic energy. DEMONIO not only provides a unique formula of ingredients that facilitate weight loss but also provides unique dosages of these ingredients to put your body in the best position to lose weight. DEMONIO may be used during the day to increase calorie wasting, during cardio to provide extra sweat and a source of energy for your workout.*
Demonio Matrix
This is where this product really shines. Demonio contains a unique blend of stimulants that may provide a boost of energy when needed. Whether it be during work, before fasted cardio or before your lifting session. Along with boosting your mood, DEMONIO may also elevate your mood. Life is stressful at every corner and certain ingredients may raise your overall mood and sense of well-being.*
Behind the ingredients
CALIENTE is a stim-free fat burner that utilizes 13 ingredients to enhance thermogenesis, appetite suppression, reduce water retention, and calorie wasting. CALIENTE not only provides a unique formula of ingredients that facilitate weight loss but also doses these ingredients to the absolute max. CALIENTE may be used during the day to increase calorie wasting, during cardio to provide extra sweat and even a thermogenic source of energy for your workout.*

Get ready to feel the heat.*
This fat burner was formulated to get you feeling the heat, help you burn more calories, sweat more, and provide thermogenic energy.*

CALIENTE is stackable with your favorite stim based products.*

Since CALIENTE contains no stimulants, it's perfect to stack with your favorite stim based products such as pre-workouts and stim fat burners. CALIENTE may also amplify the effects of certain stim based products. Using this versatile product in your stack will have you feeling the heat, causing you to sweat way more than without it.*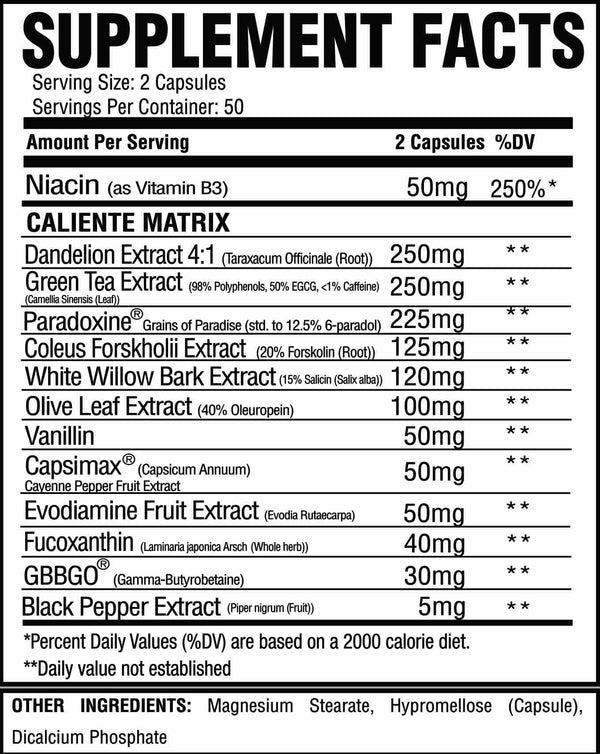 Five Stars
One of the best stacks I ever took!
CALIENTE is effective.
CALIENTE, stacked with high stim pre workout supplement(e.g. El jefe limited V3), I lost a lot of belly fat.
KILLER STACK
it kicks ass fr tho. Gives energy and promotes fat loss I wont cut without it :)
Fuego Stack is Fire
Loving this stack so far. I do two pills of each in the morning, and two of each in the afternoon. You definitely feel it, but it's not uncomfortable. Great clean energy feeling, focus and mood elevation. Very happy so far.
2 weeks review
So far nice product I'm in my second week taking Fuego I just take 2 pill at day of each one and you can feel the heat after one hour. I don't feel a extremely energy but is some there with no crash. No Appetite suppressant for me because I still hungry.
I lost 5 pounds with exercise so far.
And also the bottle was no 100 pils was missing 3 on Demonio and 2 on caliente .
fuego stack
Hi,
We love your fuego stack,
You can feel the burn it give us amazing results do highly recommend this Awesome products.
Will be a regular customer.
Thank you!😃😃😃😃😃
AMAZING
Been taking this FUEGO SHRED PACK for a little over a month now&I love it gives me so much energy,suppresses my appetite as soon as i take them together my body heats up and im sweating bullets.This shred pack with my fasted cardio every morning has kept the weight off.
Great stack
Consistent energy and appetite suppressant
Frequently Asked Questions
450 Total Caffeine Content Per Full 4 Cap Serving
There is 3 mg Alpha Yohimbine and 3 mg Yohimbine HCl
There are no allergens here. This product was manufactured in a facility that also processes other products that contains all of the major allergens.