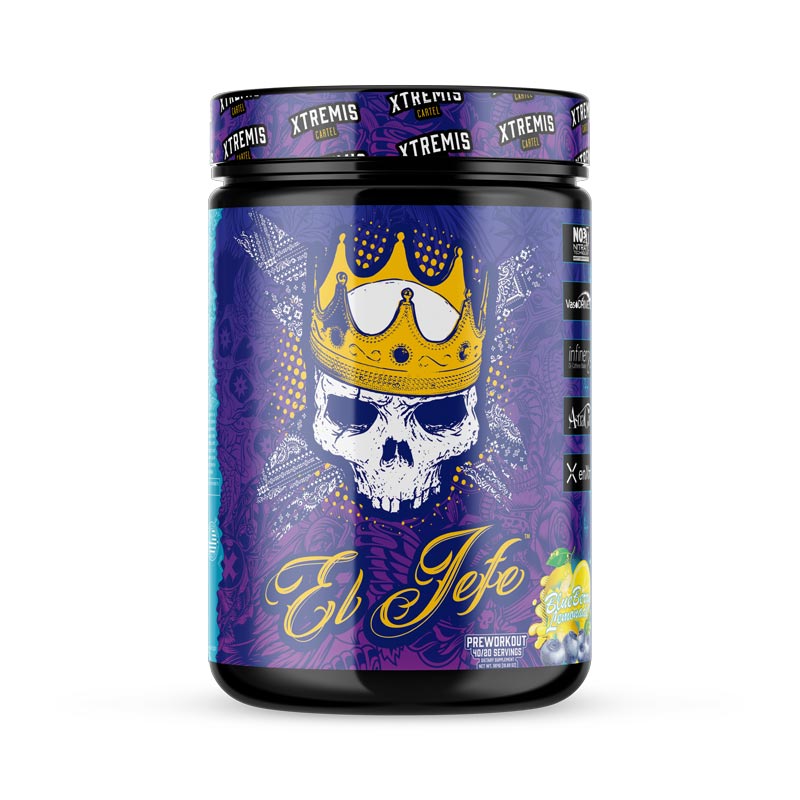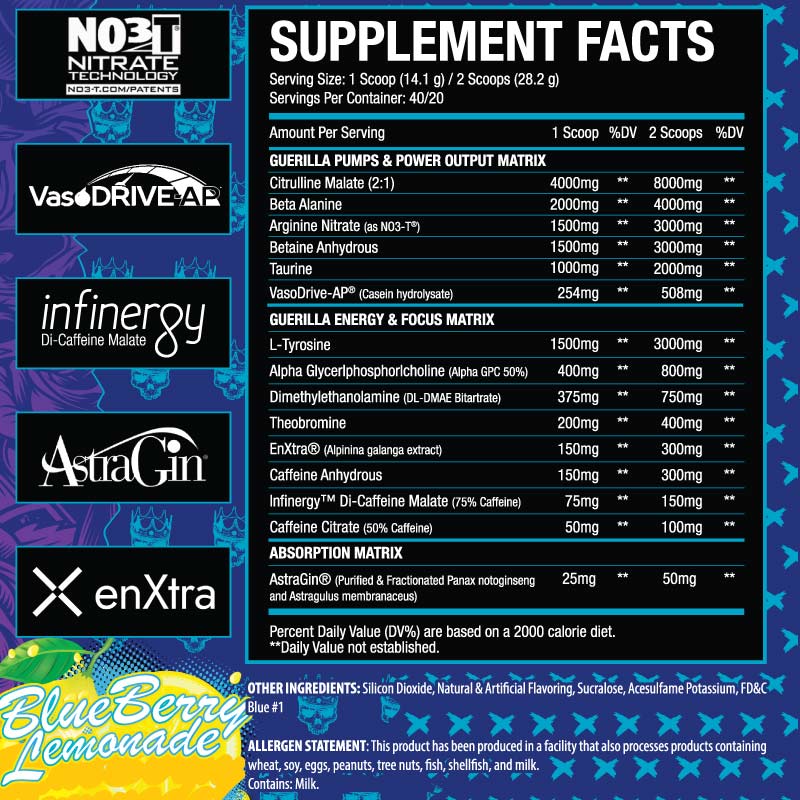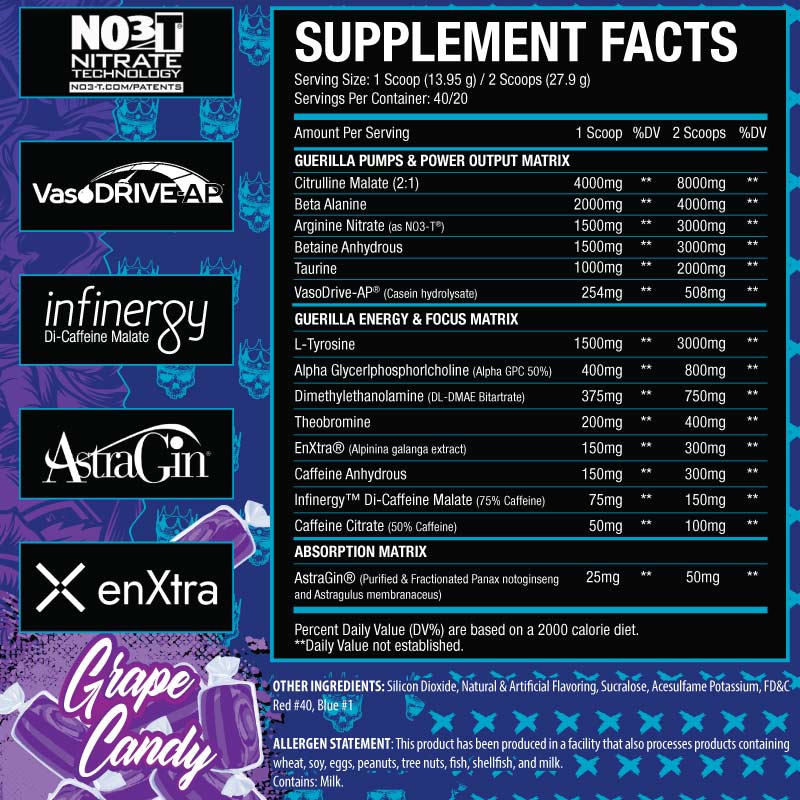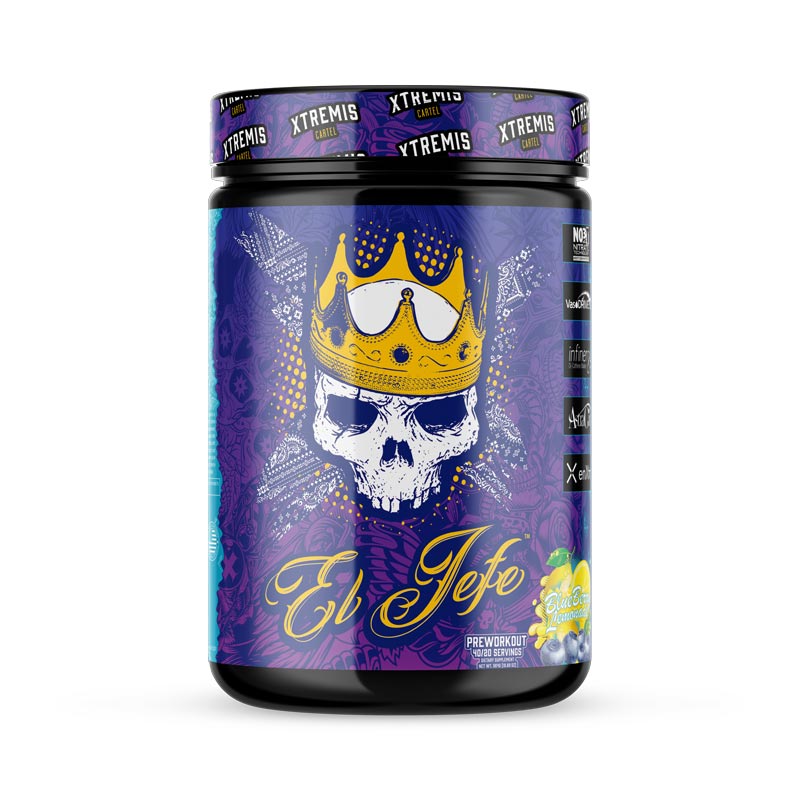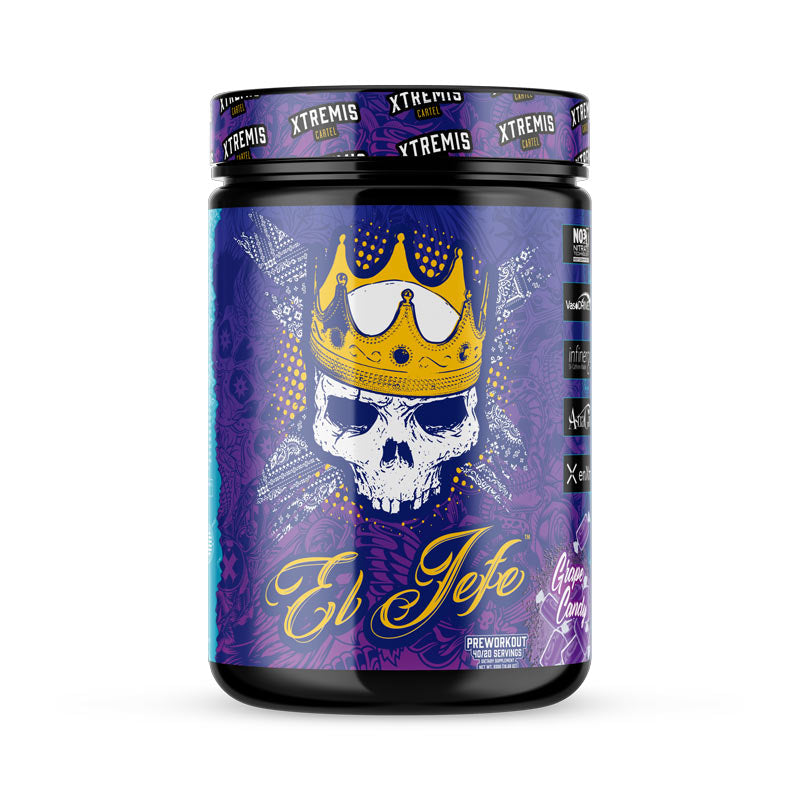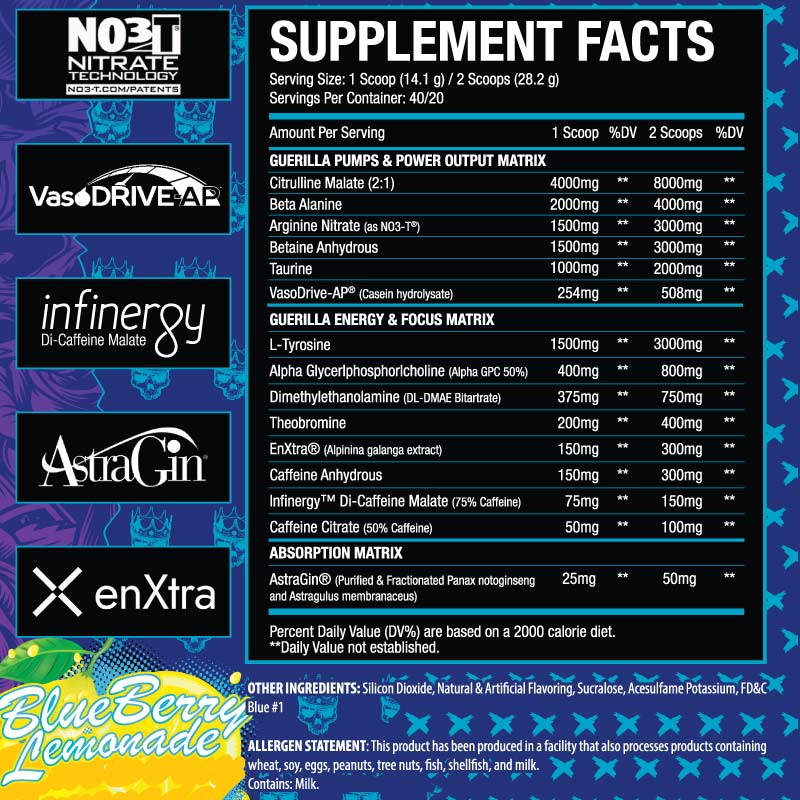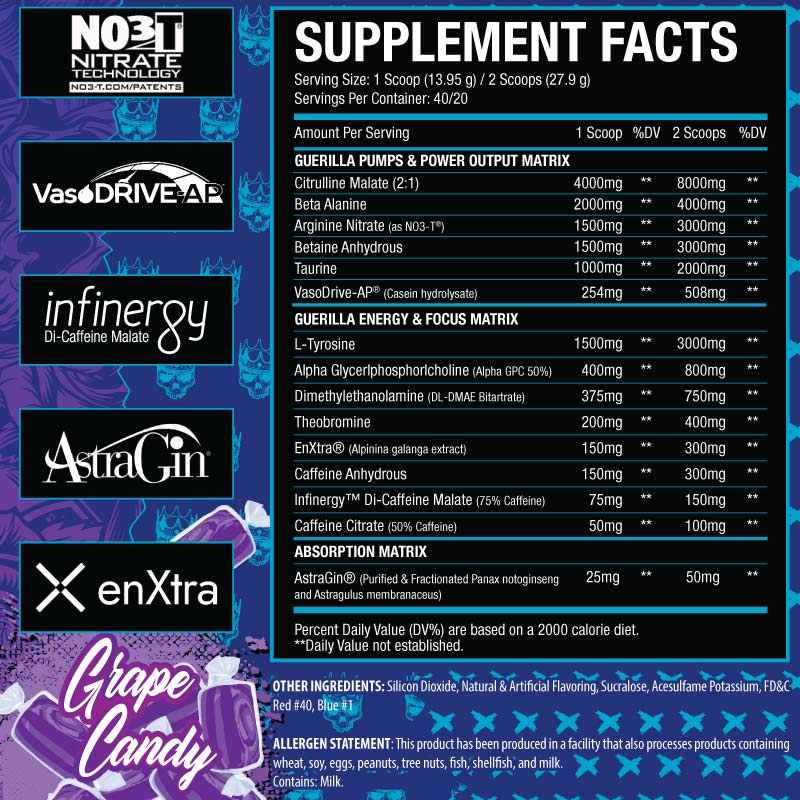 EL JEFE GUERILLA™ PRE WORKOUT
Jefe Guerilla includes the best dosages of premium ingredients.
• All-Day Energy*
• Sick Pumps*
• Zero Crash*
• Razor-Sharp Focus*
Jefe Guerilla™
is finally here
GUERILLA EXPERIENCE*
El Jefe Guerilla may provide an epic pre workout experience without exotic stimulants. Long lasting energy from 3 different forms of caffeine and other stimulants that amplify the stim experience.*
ELITe Pumps & Performance*
The new combination of nitric oxide boosters and osmolytes will get your muscles feeling one of the best pumps yet! Your favorite ingredients that helped you continue strong in your workout are still here. Those tingles you enjoyed will still be going strong here in this tub!*
LASER FOCUS*
El Jefe Limited is gonna get you focused and in the zone. Ultra focus from Tyrosine, Alpha GPC and DMAE. You're going to have the energy and confidence to perform at your best.*
8 Grams Citrulline Malate
4 Grams Beta Alanine
3 Grams NO3T® Arginine Nitrates
508 MG VasoDrive AP®
300 MG EnXtra®
3 Caffeine Sources (462.5 MG Active)
2 Choline Donors
8 Grams Citrulline Malate
4 Grams Beta Alanine
3 Grams NO3T® Arginine Nitrates
508 MG VasoDrive AP®
300 MG EnXtra®
3 Caffeine Sources (462.5 MG Active)
2 Choline Donors
8 Grams Citrulline Malate
4 Grams Beta Alanine
3 Grams NO3T® Arginine Nitrates
508 MG VasoDrive AP®
300 MG EnXtra®
3 Caffeine Sources (462.5 MG Active)
Behind the ingredients
Performance & Pumps Matrix-The combination of ingredients in the Performance and Pumps Matrix will provide you with some of the best pumps you have felt in the gym. The pumps will be insane. Pumps are coming from multiple pathways. This one we decided to add Arginine Nitrates, VasoDrive AP, Citrulline, Taurine and Betaine for the best pumps you have experienced.*

Guerilla Energy & Focus Matrix-The energy and focus here will really shine. The focus will be nuts, and the energy will be very smooth and apparent. Be ready for the smoothest experience yet.*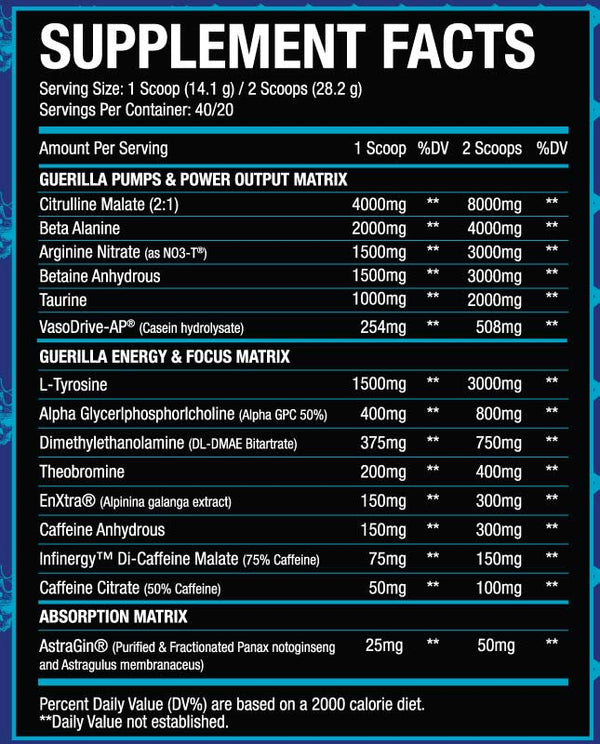 Equivalent to Crack
This pre will push you through your workout for hours, then the office the rest of the day and finally all the way driving home raged up. Top tier pre
Amazing pump
2 scoops 30 minutes prior to the gym and then I'm lifting every weight in the building. Great pump, great energy, no crash, no jitters. Highly recommend.
focus was crazy good
tried both el jefe v2 and guerilla. v2 definitely gave me that euphoric feeling and mood elevation. with guerilla i felt completely locked in was only focused on my music and my workout. pump was also great.
Great clean energy!
This pre workout was great! I felt a good throughout my entire workout. No jitters, no shakes just clean consistent energy. Would highly recommend this product! 5 Stars!
A carry
This preworkout has me focused the whole sesh no mayter what
Awesome pre workout
Great taste, great energy, pump and focus
Daily driver
This has been my daily pwo for the last few weeks and it has not disappointed. It provides solid ingredients to get through tough workouts day in and day out. This supplement company makes fantastic stuff
5/5
Blueberry lemonade flavor is insanely good. I could see it being an energy drink or aminos flavor. Transparent label, clinical dosages, and solid/sustained energy with no crash. The focus is unreal and the pump is also legit. Highly recommend this pre! It's my daily driver
#1 pre on the market
Good energy. Pumps are awesome. No need to stack anything, great by itself. Focus is best out there. I ordered grape candy and got blueberry lemonade instead. But still an awesome flavor. So you get a top notch pre that actually tastes good which is a rare combination
Frequently Asked Questions
Jefe Guerilla contains 231.25mg of active caffeine from three different caffeine sources per scoop.
You can stack this product with a stimulant-free pump product like our Sicario Swole. Sicario Swole was formulated to work synergistically with El Jefe!
You can take up to 2 scoops 30-45 minutes before your workout. Do not exceed 2 scoops in any 24 hour period.
Yes, this product contains milk. This was manufactured in a facility that also processes all the other major allergens.