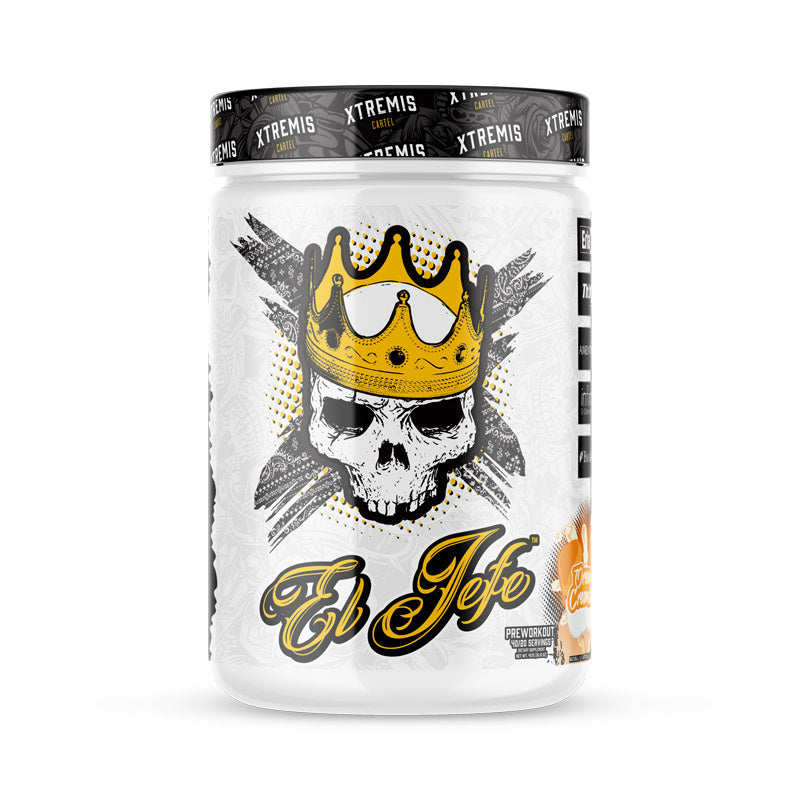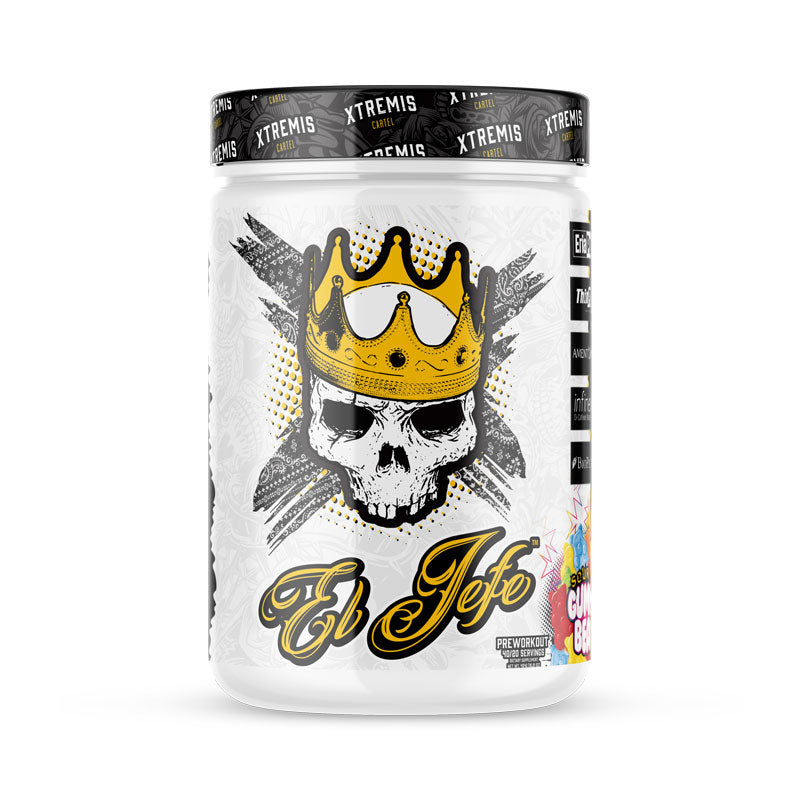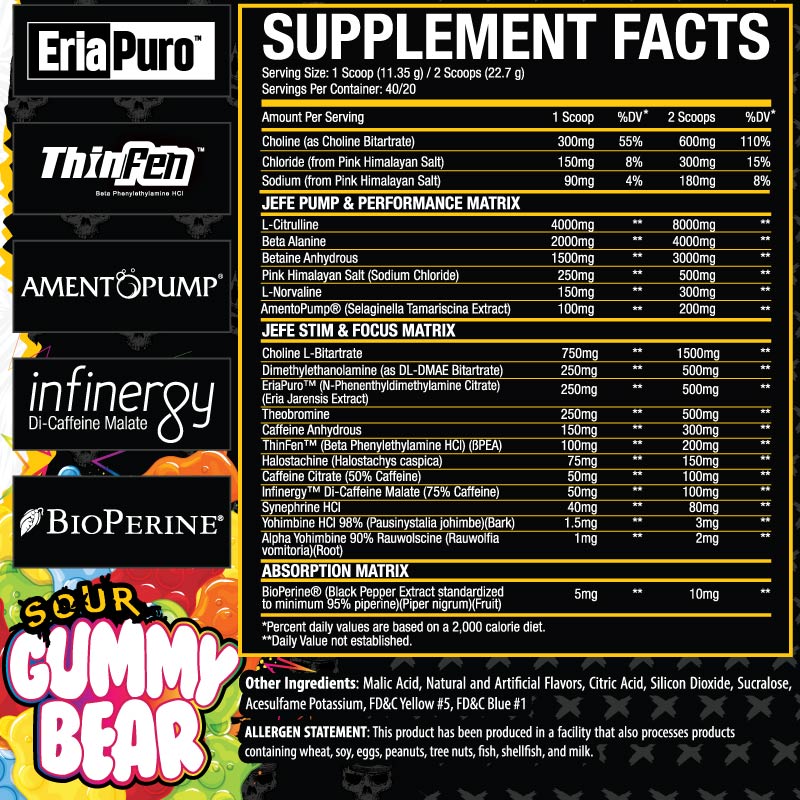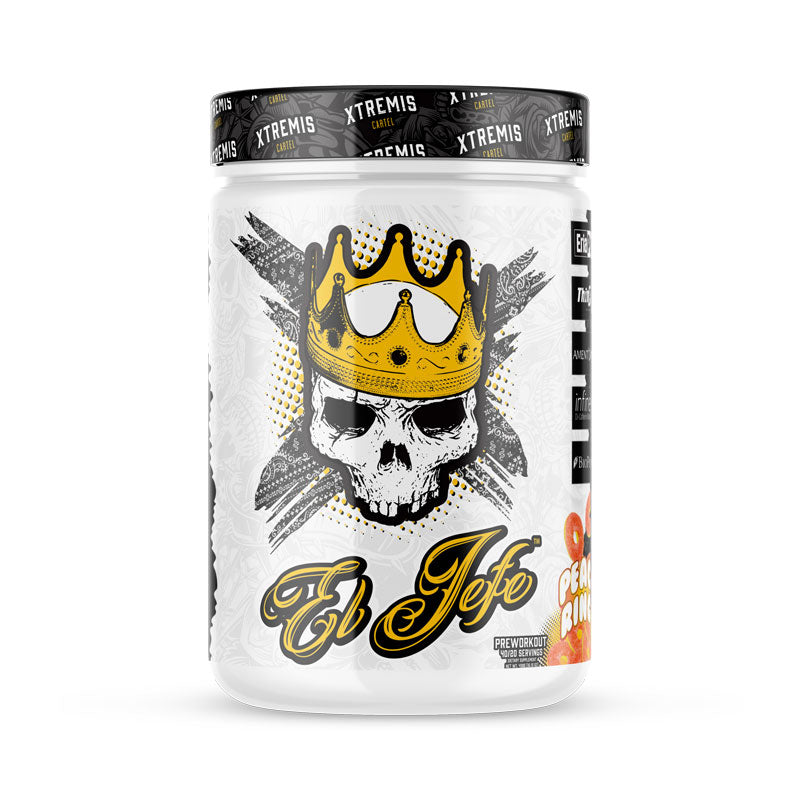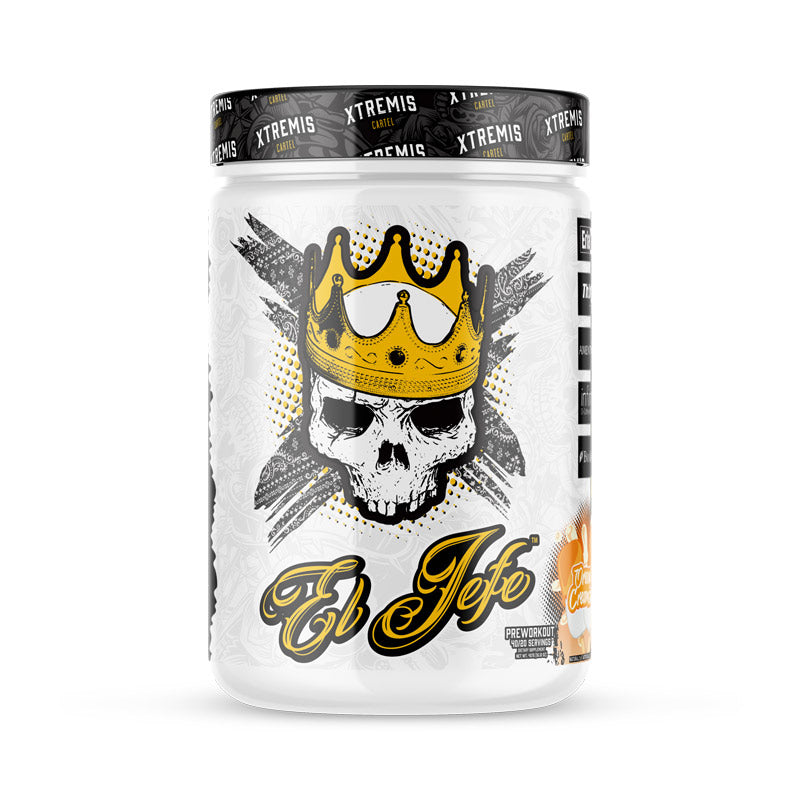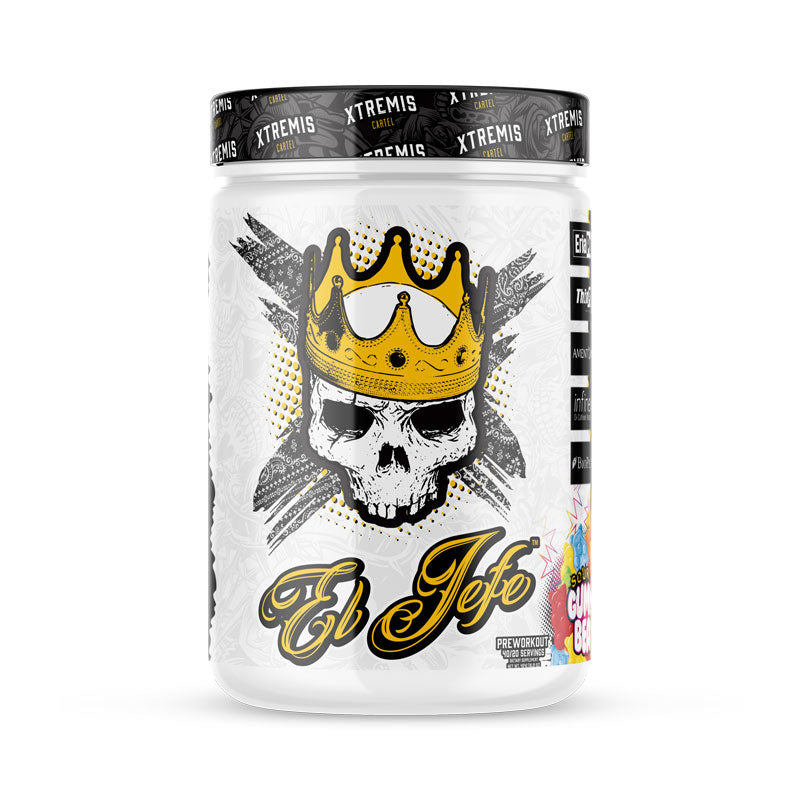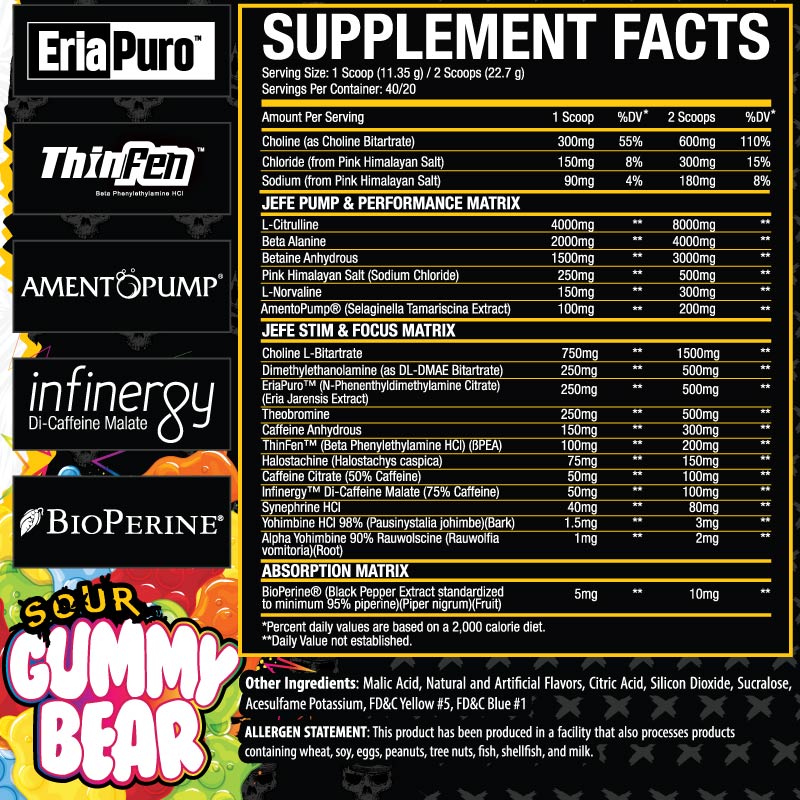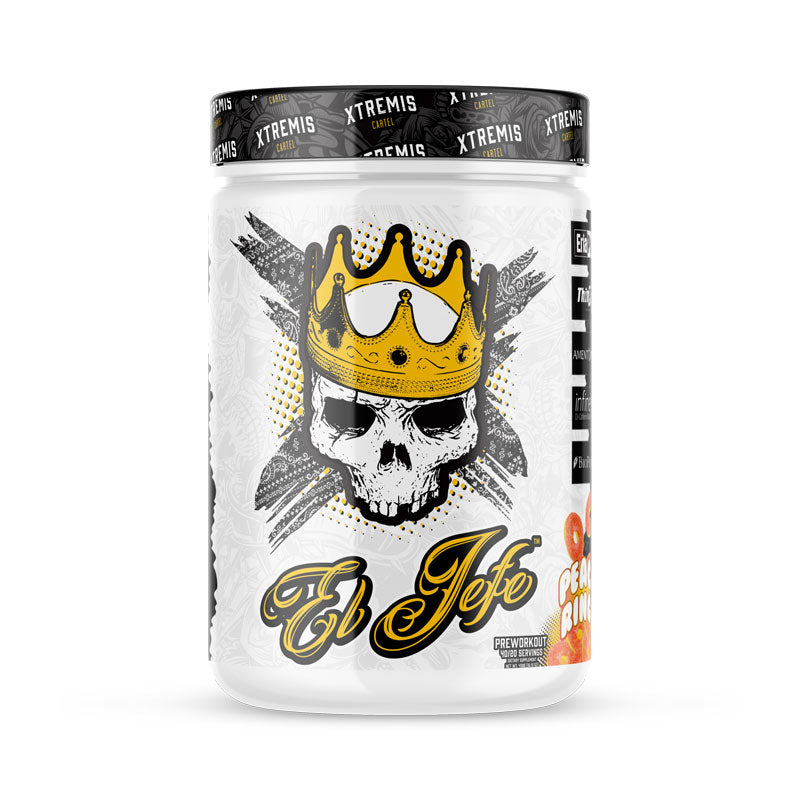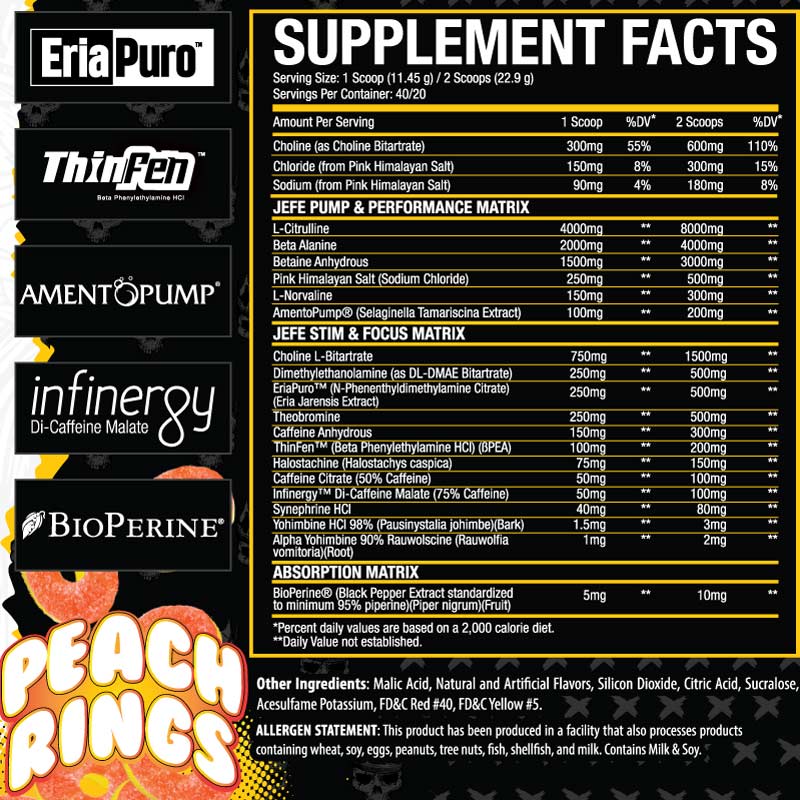 EL JEFE™ STIM PRE-WORKOUT
8 Grams Citrulline
4 Grams Beta Alanine
3 Grams Betaine Anhydrous
200 MG AmentoPump™
500 MG EriaPuro™
200 MG ThinFin™
500 MG Caffeine Content (425 MG Active)
8 Grams Citrulline
4 Grams Beta Alanine
3 Grams Betaine Anhydrous
200 MG AmentoPump™
500 MG EriaPuro™
200 MG ThinFin™
500 MG Caffeine Content (425 MG Active)
8 Grams Citrulline
4 Grams Beta Alanine
3 Grams Betaine Anhydrous
200 MG AmentoPump™
500 MG EriaPuro™
200 MG ThinFin™
EUPHORIC RIDE*
The mood elevation is the best part of the Jefe experience.*
SUPER ENERGY*
Buckle up! This will be more aggressive than most pre-workouts.*
LASER FOCUS*
No distractions. El Jefe is gonna get you focused and in the zone.*
Behind the ingredients
Jefe Performance & Pumps Matrix

The combination of ingredients in the Jefe Performance and Pumps Matrix will provide you with some of the best pumps you have felt in the gym. Providing 8g of Citrulline, 3g of Betaine Anhydrous, 300mg of Norvaline, 500mg of Pink Himalayan Salt, and 200mg of AmentoPump™; El Jefe increases N.O. production, and get your muscles primed to explode and sustain muscle output.*

Jefe Stim & Focus Matrix

This is where the Jefe really shines! The combo of various stims and nootropics will provide you with that unique Jefe experience. This matrix provides you that focus, energy, confidence, and mood elevation you need to crush the workout game.*

The EriaPuro™ & ThinFin™ come together for that mood-boosting, while the yohimbine combo with Synephrine & Halostachine provides that jet fuel. Of course you get next level energy from the three different versions of caffeine & theobromine. Finally you get laser focused with the choline bitartrate and DMAE.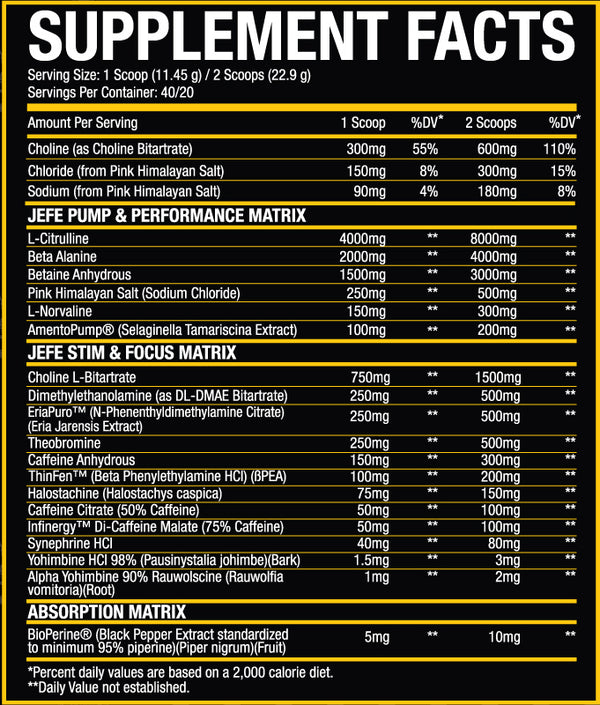 David Fredrick Review

"Euphoric Bubble PWO"
Perfect for high stim Saturday
This pre is perfect! It has the perfect mix of caffeine and stims for me and the pumps are awesome! Gives you a very dialed in focused feeling and a great sense of euphoria that lasts a solid 2 hours. The energy lasts through the entire day and no real crash I can speak of. Peach rings flavor was decent considering the amount of ingredients in this too. Definitely my new go to high stim pre, wouldn't change anything about this
EL JEFE™ STIM PRE-WORKOUT
High energy pump
Great energy! Great pump! Non jittery, lasting energy throughout the workout and afterwards.
el jefe pre workout
took two scoops and holyyyyyy made my workout really good
Helluva Time
Recently had the chance to try out the peach rings pre and gotta say.. I will be coming back! The feeling before and after my workout was just enough of a rush for me to know this is a top tier pre 🫡
Great product
First time trying this preworkout and it was amazing. I remember it to anyone who wants to try a good tasting preworkout.
Amazing Pre
This is an amazing Preworkout, my new favorite...I will come back for more 💪
El jefe
I love all of xtremis cartel. This one doesn't hit as hard as the leyenda series but it still hits hard and does everything I need to do. I have nothing but good things to say about the el jefe series.
Best I have had
The el jefe is by far the best pre workout I have had to date, I gave a sample to 2 friends at my local gym and they both agreed it put them into another zone with 1 scoop only which is a half serving. Focus, pump etc is top notch and I highly recommend it.
El Jefe
Best Pre workout I've ever had! The boss for a reason!
Frequently Asked Questions
You can stack this product with a stimulant free pre workout like our Sicario v2 or Sicario Swole.
You can take up to 2 scoops 30-45 minutes before your workout. Do not exceed 2 scoops in any 24 hour period.
There are no allergens here. This was manufactured in a facility that also processes all the other major allergens.