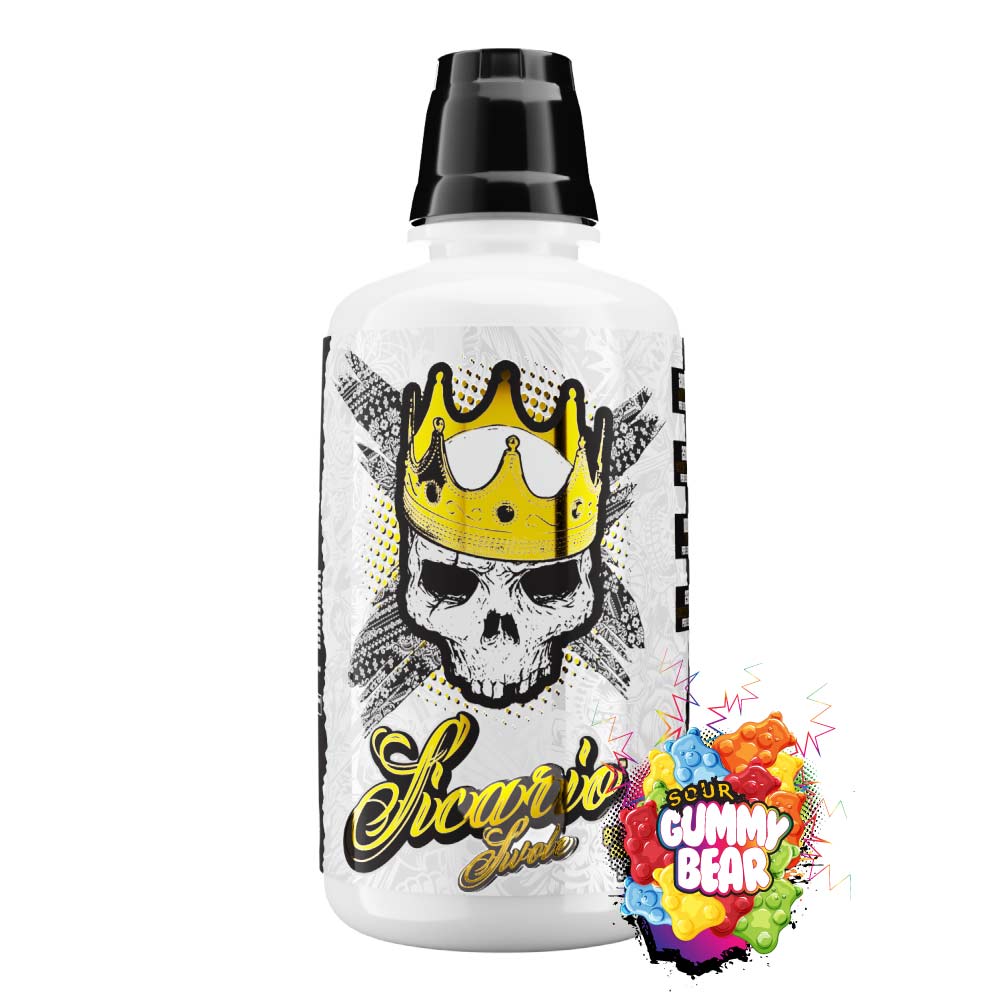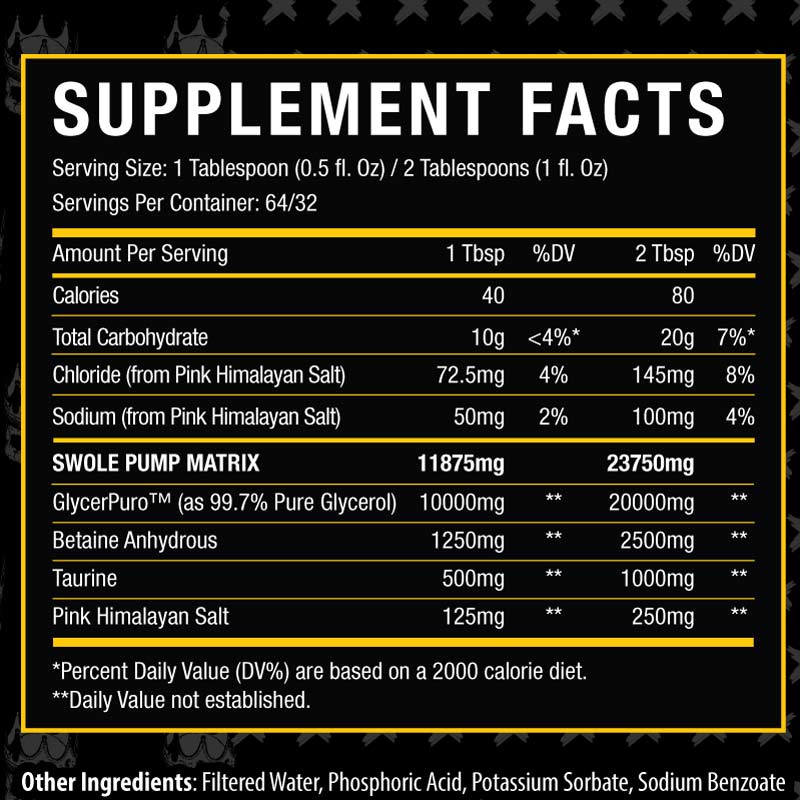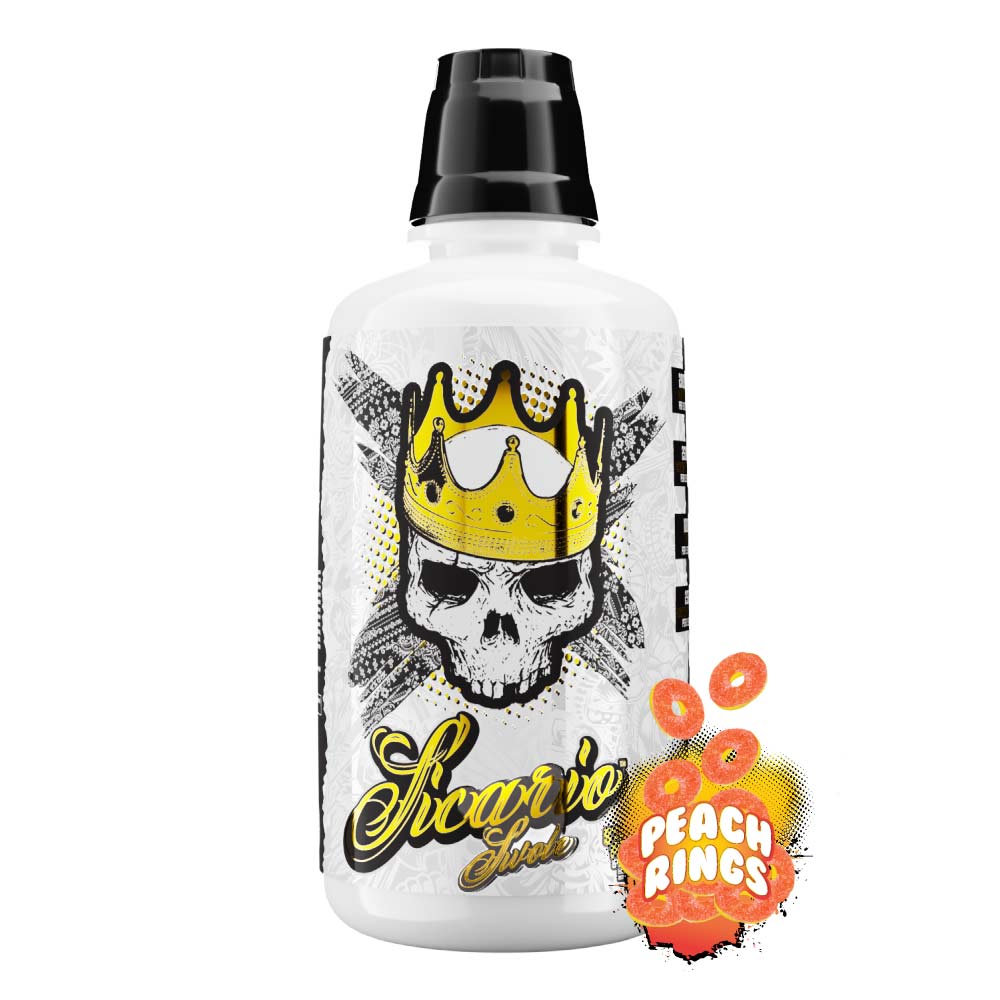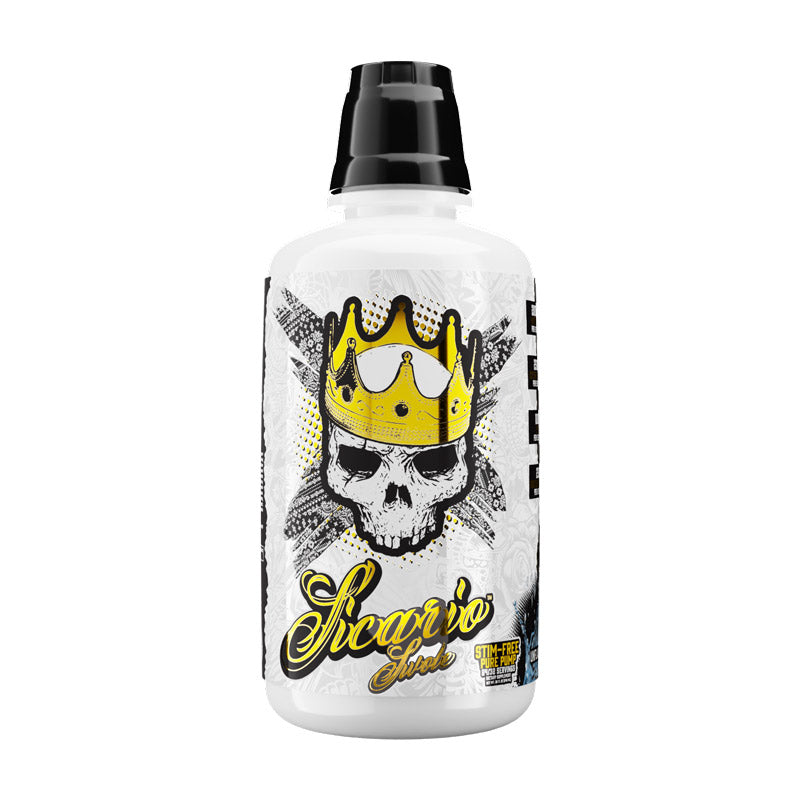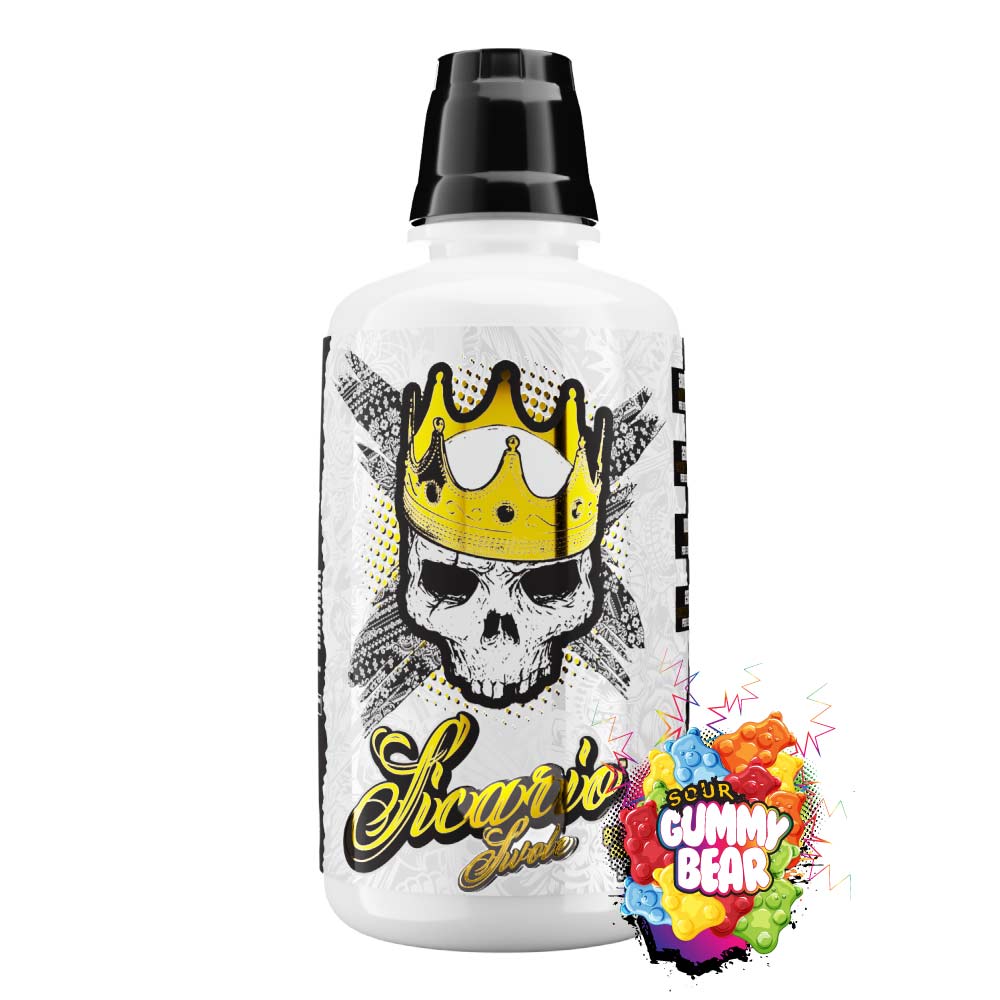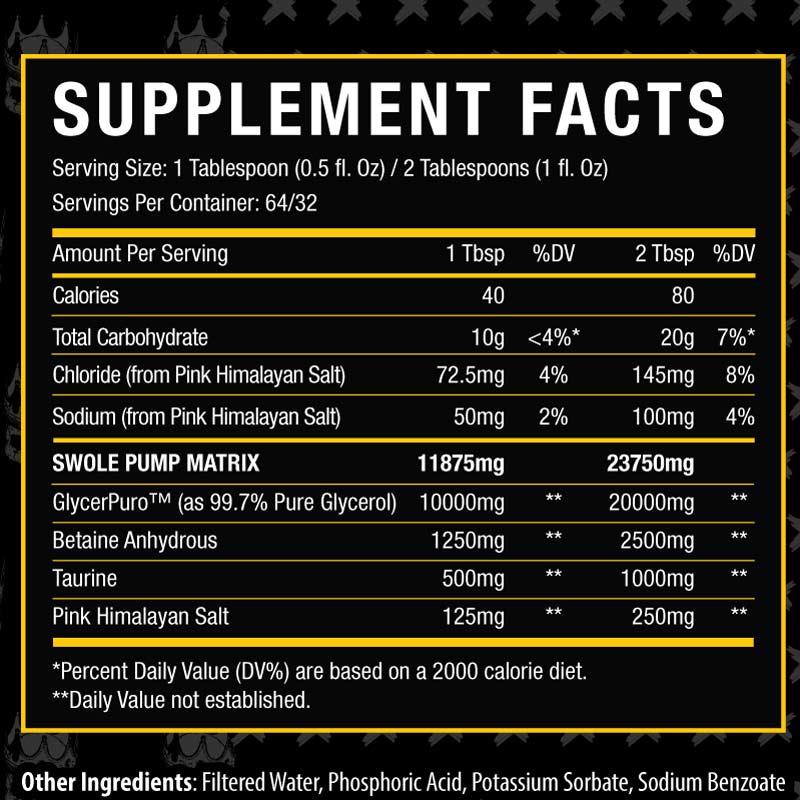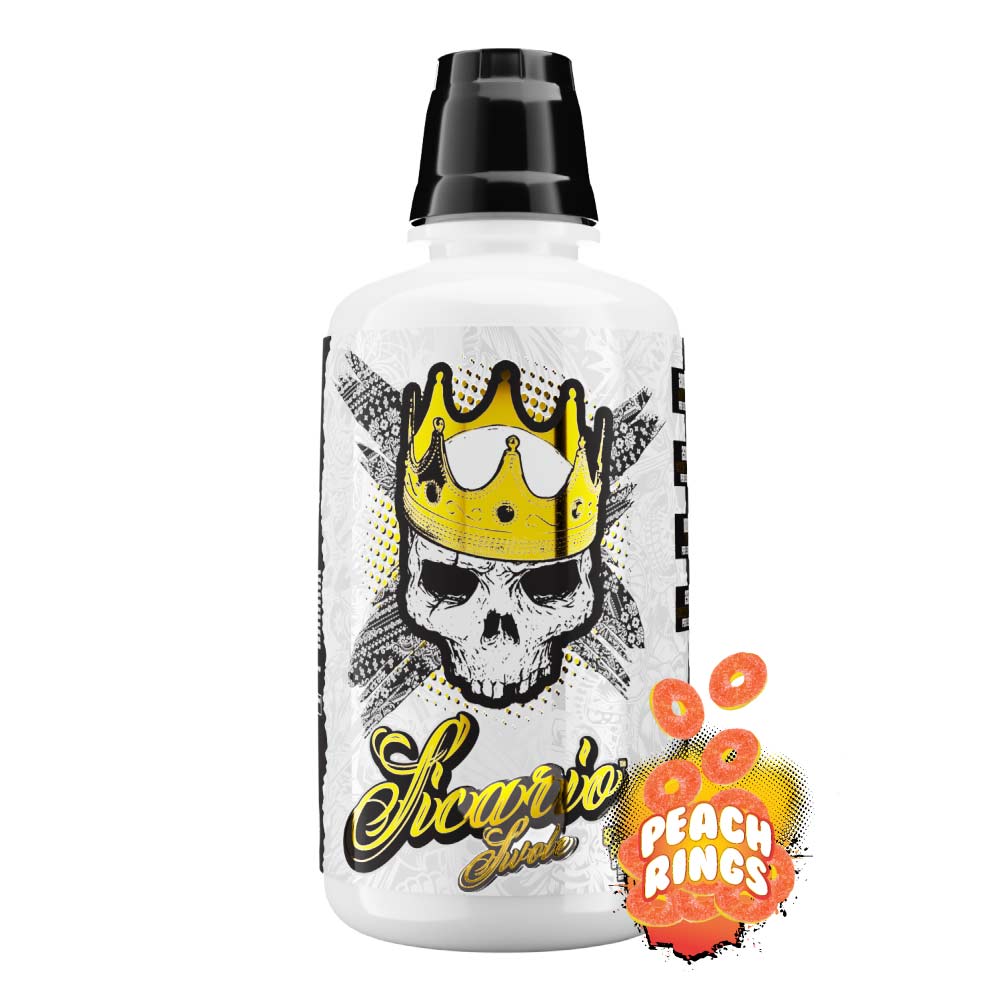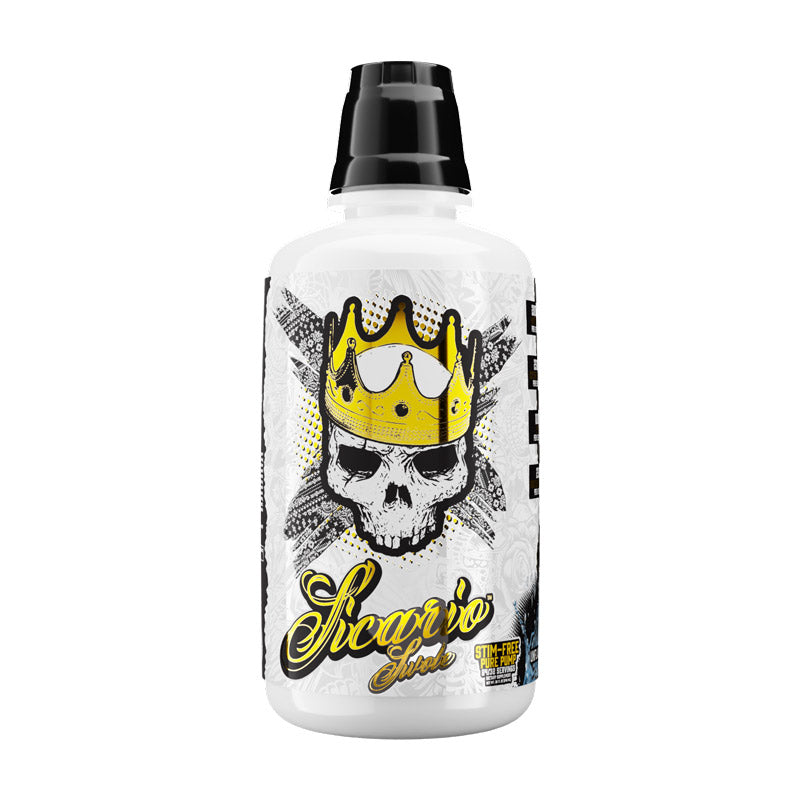 SICARIO SWOLE™ PUMP LIQUID
Sicario Swole includes the best dosages of premium ingredients you cant see in powder form.
• 20 Grams of GlycerPuro™ (99.7% pure glycerol)*
• Osmolyte Synergy w/ Betaine, Taurine & Sodium Chloride*
• Sick Pumps*
• Totally Stim Free*
Sicario Swole™
is finally here
20 Grams 99.7% Glycerol
2.5 Grams Betaine Anhydrous
1 Gram Taurine
250 MG Pink Himalayan Salt
20 Grams 99.7% Glycerol
2.5 Grams Betaine Anhydrous
1 Gram Taurine
250 MG Pink Himalayan Salt
20 Grams 99.7% Glycerol
2.5 Grams Betaine Anhydrous
1 Gram Taurine
250 MG Pink Himalayan Salt
20 Grams 99.7% Glycerol
2.5 Grams Betaine Anhydrous
1 Gram Taurine
250 MG Pink Himalayan Salt
20 Grams 99.7% Glycerol
2.5 Grams Betaine Anhydrous
1 Gram Taurine
250 MG Pink Himalayan Salt
all new experience*
Sicario Swole is something unique from what is currently on the market. There have been plenty of pump products available before, but this is a glycerol heavy liquid pump product you can stack with almost any pre workout.*
swole pumps*
This can get you super pumped through hyper-cell hydration. All the osmolytes here will have you feeling the swolest pumps yet.*
No stimulants*
Sicario Swole has absolutely no stimulants like caffeine or other central nervous system stimulants.*
Behind the ingredients
Swole Pump Matrix-The combination of ingredients in this matrix will have you feeling the swolest ever. With 20 grams of 99.7% glycerol from the GlycerPuro™, Betaine at 2.5 grams, Taurine at 1 gram and Pink Himalayan Salt, your pump is gonna get insane.*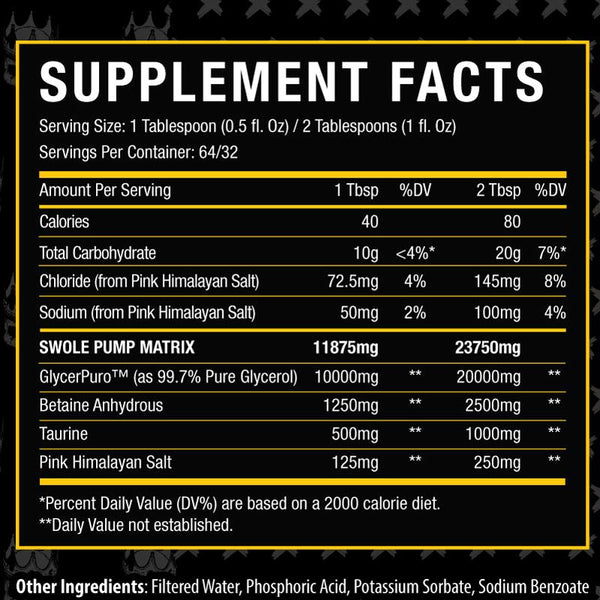 Good pump
Gave me a crazy pump on leg day
It's the real deal
I'm only doing 1 tbsp of right now, but I can really feel the difference. My workouts are better, and I've got more energy to push through the harder days. This product is a solid 10/10.
Best liquid glycerol in the market.
I've tried multiple liquid glycerol from reputable companies but sicario nailed it with this one. Not sure if it's the pink Himalayan salt that puts it over the edge compared to its competitors but the best I've had so far.
Swole
Extra pumps works as advertised
Massive pumps
Definitely increases the pumps on the first use, loving it so far
Positive
Product works as advertised and shipping was faster than estimated.
EL JEFE IS THE BOMB ! love it ! Will order more soon !
Incredible Pumps
Even at half dose, the pumps have been incredible!
Frequently Asked Questions
Jefe Guerilla contains 231.25mg of active caffeine from three different caffeine sources per scoop.
You can stack this product with a stimulant-free pump product like our Sicario Swole. Sicario Swole was formulated to work synergistically with El Jefe!
You can take up to 2 scoops 30-45 minutes before your workout. Do not exceed 2 scoops in any 24 hour period.
None are present in this product. This was manufactured in a facility that also processes all the other major allergens.